What are the best ways to tell fake vs genuine Naketano clothing? Our illustrated guide shows you the clues to avoid being ripped off by counterfeits.
The hoodies, jackets and sweatshirts from Naketano stand out because they are created with great attention to detail. You can recognize this from the fact that almost all applications such as patches, labels, zippers, and buttons show the brand name or a typical logo.
Find more Fake Check guides, tips and advice
Best ways to tell fake vs genuine Naketano clothing
The German company Naketano with the slogan "Brave New Word" was founded by Jozo Lonac & Sascha Peljhan. Both aim to design favorite parts with high quality that feel great and fit comfortably. Streetwear with hoodies and sweatshirts is particularly successful internationally. The striking patches, oversize collar, hoods and colorful cords are characteristic.
Naketano streetwear can be ordered through various online shops. Due to the international success, counterfeits are now increasingly appearing. These counterfeits are sold online in particular through so-called fake shops .
Recognize original Naketano streetwear
Look at the following original detail shots and compare the details with your garment. This will give you clues that will help you identify a fake. In many cases, counterfeiters do not pay attention to details that can help you identify a fake.
Naketano brand labels
The brand name "Naketano" can be found on almost all applications of a garment. Depending on the material from which the application is made, the lettering is sewn on, imprinted or engraved.
Naketano slogan "Brave New Word"
"Brave new Word" is the company slogan that is often used as a patch. Here are some variations.
Naketano animal patches
You will often find labels & patches with animal motifs sewn on the arm or chest area. Owls or deer can be found in women's fashion. In the men's series, it's the wolf.
Naketano anchor
The patch / patch with the brass anchor can be found both women's and men's fashion. The anchor is sewn on in different variations.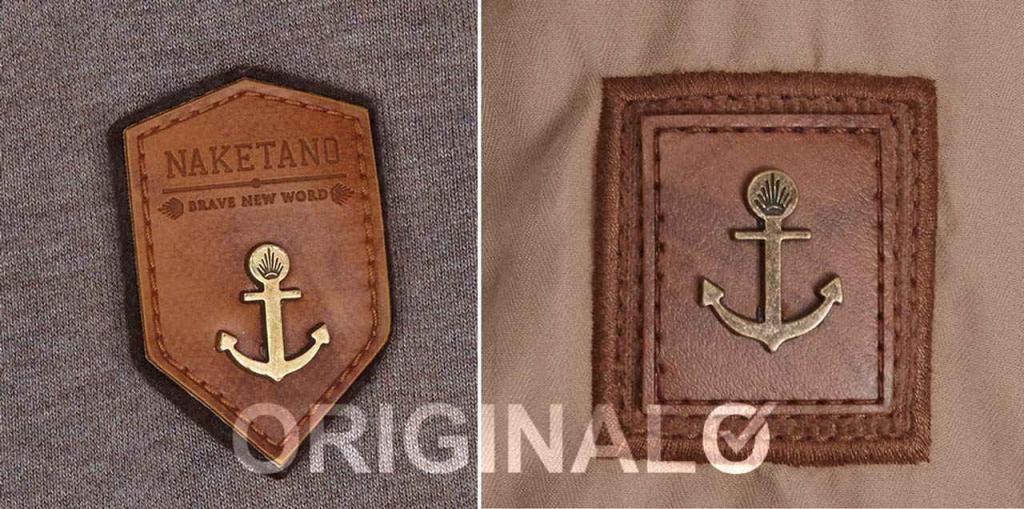 Naketano cords and buttons
Also check for buttons and metal patches that the company name, slogan or other identifying feature can be seen.