How do you make homemade soap easily? Our guide will outline the different methods to make your own soap.
Find more homemade health and beauty guides
How to make homemade soap easily
Soap making is a popular hobby. Because making soap yourself is indeed not a witchcraft. Not only do you benefit from natural care – homemade soaps are also a great gift for friends and family. We will show you how you can produce nourishing and beautiful soap yourself with very little effort.
1. The benefits of soap production
Homemade soaps are more popular than ever. There are many reasons for this. For one thing, you know what's in the soap when you do it yourself. In the homemade hand soap there is only what you want. Doubtful ingredients and chemistry are no longer a problem.
On the other hand, soap making is quite fun – it's not for nothing that it's a sought-after hobby. There are many different recipes and boiling soaps is also possible with children. With enough ideas and the many tips from the Internet, you can let off steam creatively. The soaps are not only an enrichment for personal use: they are also suitable as a great gift idea.
2. Make soaps yourself – the different variants
In soap production, a distinction is made between two different approaches. These are:
Soap with caustic soda
If you want to make soap with lye (caustic soda), then this is a bit more expensive, especially since you have to pay attention to various precautions. If you work with lye, protective gloves as well as goggles and protective clothing are necessary. This is because the lye must not fall on the skin or in the eyes under any circumstances.
Soap-based soap
It is easier and even more harmless when the hand soap is made on a soap basis. Then save yourself the work with the dangerous lye. Soap from core soap is very easy to make and the possibilities are similarly extensive.
3. Making soap yourself – step by step
The first sieing of a soap can be quite a challenge. Be aware that the first attempt is not optimal in case of doubt. Exercise, however, makes the master. For a soap, you should take about 15 minutes. After that, the soap pieces remain standing for a few more hours until they are completely firm.
For the production of natural soap you need the following utensils:
In addition, there are the following ingredients, which are necessary for the DIY soap:
Soap flakes, core soap or glycerine soap as a base
Olive oil or fragrance oil
Food coloring
Preparation plays a crucial role in soap production. First, cover the work surface in the kitchen with newspaper. After that, remove any items you don't need immediately. After that, you can set up all the utensils and ingredients so that you can save yourself unnecessary handles. Now it's off.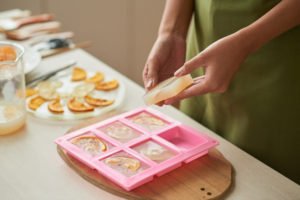 With the right soap shape, you can optimally shape the soap base.
Take liquid soap, core soap or soap flakes and put the required amount in a bowl.
Fill a pot with water and bring the contents to the siech.
The bowl with the soap base now comes into the water bath.
Let the contents of the bowl slowly become liquid and stir again and again.
Now put all the ingredients in the bowl you want in your soap.
Stir again thoroughly.
Take the soap moulds by hand and fill the moulds to the edge.
Let the soap rest for at least 3 hours before taking it out of shape.
4. Creative tips and ideas for wonderful natural cosmetics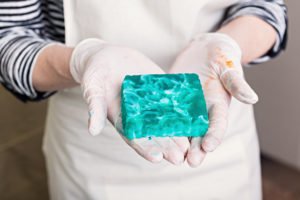 There are no limits to creativity – you can make soap in a variety of variations.
Lavender soap, orange soap, coffee soap: If you bother and research, you will find a variety of refined recipes for soap. You can implement the many ideas in no time. Because you don't need much time or money to do that. Even the form plays a decisive role. Soap forms are now available in a wide variety of variations. If you fill them according to instructions, you have made beautiful soaps in no time. You can also let off steam when it comes to fragrance. If you like liquid soap with fragrance, you will love natural soap with essential oils all the more.
To make your soap smell good, you can simply add any fragrance oil. The direction of fragrance does not matter. You can also determine the intensity according to your own needs and preferences. If you want to make the soap a real eye-catcher, you should play with food coloring or other ingredients such as petals.
Good to know: There are no limits to creativity. You can't just make hand soap yourself. Facial soap, hair soap and care soaps can also be put together relatively easily with the right instructions and the right recipe. Basically, you can produce your complete care series yourself with a bit of planning.
Color is easy to bring into play if you dye the liquid soap with food coloring before putting it into the shape. A real eye-catcher are multicolored soaps.To do this, divide the soap into several bowls and colour it with different colors. Then add the liquid soap layer by layer into the mold.
A great effect can be achieved even if you add suitable ingredients to the liquid base. For example, if you've opted for a homemade lavender soap, add a special touch to this soap when you add lavender flowers.
5. Making soap yourself – individual care
Soap should not only smell pleasant, but also care for it. You can use the soap you make yourself for the whole body. However, if you want a special care, then you can vary the ingredients a bit.
How about an anti-cellulite soap? To do this, simply add ground coffee and a few coffee beans to the soap base. This massages the skin during cleansing and in turn promotes blood circulation.
Especially in winter, the skin likes to stretch when it is plagued by the heating. Then you can make homemade soap with oatmeal and shea butter. This mixture nourishes the skin and provides it with a lot of moisture – this is a real plus in winter.