How do you make a picture frame easily? Our guide will show you how to make several types — and even how kids can join in.
Find more great craft guides, tips and advice
Can I easily make a wooden picture frame myself? The complexity of the task depends heavily on whether you want to pursue a rather simple idea or design a professional frame with glass pane.
What tips are there for crafting with children? With small children, the rather simple cardboard version is suitable. Older children, on the other hand, can also make wooden frames. For simplicity, however, you should do without a glass pane. In addition, it is a good place to place more emphasis on the subsequent design.
What tool do I need if I want to make a picture frame out of wood? In any case, you should have a cross-cut and miter saw as well as a fine saw. In addition, a circular saw and a top cutter are available if you want to work professionally.
Picture frames can be found in many shops. However, the size and material do not always suit your own taste. So how about getting creative and making a picture frame yourself? We will show you what you need for the DIY frames and what different possibilities are available to you.
1. What tools are required?
If you want to make a photo frame, you don't need much except a long piece of wood. However, a certain basic accessory is essentialif you want to build something out of wood.
In any case, you need this equipment:
a cross-cutting and miter saw (alternatively a fine saw with suitable load)
a stitch or circular saw (if you need to adjust the piece of wood of the frame in width)
for children a fine or fret saw (if you use a thin back that is easy to cut)Think in advance about the size of the frame.
Glue (to glue the vertices)
a tacker/stapler improves adhesion to the corners, so that the frame gains stability)
Before you get started, first consider how big a frame you want to build. For the back, it is best to use a thin plywood board. You can get them either online or at the local hardware store.
The frames can be old wooden boards, roof slats, or skirting boards as well as wooden remains,which can still be found in the attic.
It is important, however, that the wooden strips are not too warped to be able to connect them well.
Tip: If you do not want to cut the back plates, you can order plates for crafting to a certain extent or have them cut directly in the DIY store on site.
2. The procedure in detail – this is how the wooden picture frame is made
First, cut the plate to the desired size. This is particularly easy to do by using a circular saw. Children can of course simply use a fret saw to minimize the risk of injury.
Now place the plate on the floor in front of you and adjust the wooden strips according to the length. Always cut the strips at a 45° angle to miter (with the miter saw). In this way, you can put the pieces of wood together perfectly afterwards.
In order to avoid measurement inaccuracies, first cut a miter and then measure along the outside (the longer side).
If you have cut all four woods appropriately, glue the corners together. For a better and, above all, faster connection, you can also use a stapler and fasten the backs with two to three brackets each.
Now only two cords are missing on the back, which serve as a suspension in a horizontal or vertical direction. You can also attach these with a Stapler or in a loop with stapling.
Afterwards, you can customize the frame by using different color accents.
If you also want to integrate a glass pane, you can't avoid high-quality tools, such as a glass cutter.
3. Make a picture frame out of cardboard – it's easy to do
If the idea of the self-made picture frame made of wood is a little too elaborate for you, you can also try the simple version made of cardboard.
This is especially useful if you want to build a picture frame with young children.
The following accessories are required:
Cardboard (preferably relatively thick)
Clay paper (as back panel)
Cords (for suspension)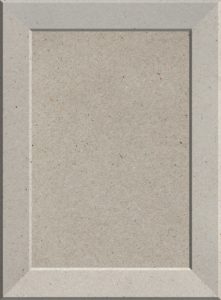 This could be the basis of a cardboard frame.
In addition, you should provide scissors, glue, a geo-triangle, and crayons (for subsequent decorating).
First, cut out a piece of cardboard to the desired size. The easiest way is to use a square or rectangle as a base.
If you want to place a photo in the middle, it is a good place to stick it in the middle and to be able to adjust the frame optimally afterwards.
Then cut out four pieces of cardboard in the full length of the frame (two long and two short).
Now follow the corners that you can easily cut off by creating a geo-triangle at an angle of 45°. In this way, you create an exact miter so that each frame piece fits correctly.
Tip: Optionally, you can also cover the papprenders with fabric before sticking them on.
4. Making picture frames from branches and fairy lights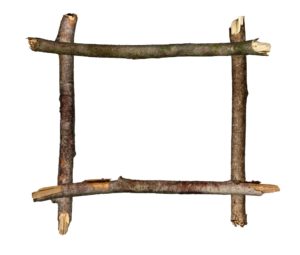 Easily design a fancy picture frame yourself.
Not only vintage but also modern ideas are suitable for a picture frame. So how about using a variant made of natural materials instead of the upcycling frame??
To implement this idea, all you need is a few decorative (very dry) branches, a hot glue gun (for easy connection), a thin spear wood plate (as a back wall) and a string of lights.
First, paint the back panel in the desired background color. Then, it is best to cut the branches so that they fill the frame well and leave a small piece at the edge.
Now put the branches in the right position and wrap the string of lights around. The battery of the fairy lights can more or less disappear in a corner at the lower end.
Glue the branches including the string of lights with hot glue on the plate. A string for hanging photos is recommended in the middle.