Can you lay sewage pipe as a DIY project? If you want to install a sewage pipe, there are several aspects to consider.
The sewage system of a house is quite complex. If you want to create your own hand, there are a lot of things to keep in mind.
When in doubt, the motto is always to tackle only the things that you trust yourself. In our article we show you which tips you should consider if you want to install a sewage pipe and to what extent problems can arise.
Find more plumbing guides, tips and advice
FAQ: key factors to lay sewage pipe
Can I lay a sewage pipe myself?
In principle, this is possible, but a basic technical understanding and a little sensitivity are required.
Do sewage pipes always have the same diameter?
No, it depends on the water flow. The largest pass is necessary for the toilet, while in a sink you can also get by with a 40 or 50 mm pipe.
Is it sensible to hire a company?
Of course, this step will cost you considerably more money, but on the other hand it also offers a lot of certainty with regard to the functionality of the sewage system.
1. Laying a sewage pipe – the most important points in advance
Pay attention to sufficient gradient:A pipe must always have a certain gradient. This is particularly noticeable in hard-to-reach areas where angles must be used.
Typical are 2 to 3%. When laying, make sure that this slope is maintained along the entire length.
A high flow rate allows: If you lay sewage pipes correctly, you should install as few angles as possible. However, this cannot be completely avoided.
However, better to rely on several small (45 degree angles) than a very strong angle (of almost 90 degrees) to avoid slowing down the water in the drain pipe too much.
Otherwise, there is a risk that the waste water will accumulate at this point.
Select the appropriate sewage pipe for the respective purpose: Essentially, you get 3 different variants in retail. On the one hand, there are grey pipes for the interior, red pipes for the outdoor area as well as green pipes, which are only necessary under heavy loads in the outdoor area.
The correct diameter: A drain pipe should be so thick that the waste water can drain without any problems. However, too large pipes can also cause difficulties, as they are not sufficiently flushed, so that deposits can form.
2. Place a sewage pipe inside – this is how you proceed
If you want to install a sewage pipe indoors yourself, first consider what diameter the pipe should have.
A drain pipe with a diameter of approx. 40 to 50 mm is sufficient for the sink as well as the connection of the dishwasher in the kitchen.
Also in the bathroom you can get by at the sink with this diameter.
A little larger pipes are required for the shower and the bathtub. However, you can get by with a 60 mm or 75 mm thick drain pipe.
The largest drain pipe requires the toilet. Usually pipes with 90 or 100 mm are used here.
Before you start cutting the wall, verify that the wall is suitable for the purpose. The installation on walls clad with plasterboard is particularly easy.
Cuts can be done by means of a cutter and cables can be easily fixed inside.
Incidentally, the wall should be sufficiently thick so that you can lift it about one centimeter larger than the drain pipe.
Particular care should be taken with load-bearing walls, which are, however, usually built so massively that a subsequent installation of sewage pipes is possible without any problems.
2.1. These steps are necessary to install a sewage pipe
First, you record the course of the pipes. Note that the cut-out must be a little larger than the diameter of the sewage pipes.
Next comes the wall opening. In the case of plasterboard, this is very easy. Otherwise, ideally use professional cutting tools at this point. In this way, surrounding areas remain healthy, so you only have to repair the damage areas yourself.
After separation, the stones are separated by means of a drill hammer. A simple chisel is rather unsuitable if it is longer pieces or hard rock.
Now connect the pipes together. Plug-in systems are best suited for this purpose. As a rule, you have to shorten the drain pipes. Use a fine saw to get as accurate cuts as possible.
Frayed areas can be smoothed with a file.
Next, place the pipes in the wall and follow the above tips regarding the angles.
Now it's time for a leak check. Let the water run slowly first and then for several minutes at a time.
If there are no leaks, close the wall again.
2.2. Short tips for optimal installation
In the following lines, you'll find a few tips to help you lay a sewage pipe:
Attach sewage pipes in walls best with clamps that are soundproofed. Otherwise, the vibrations can cause disturbing noises. The clamp itself, however, ensures that the pipe cannot move and affects the slope.
Always completely plug the pipes of a plug-in system together and then pull them apart a little. In this way, you provide sufficient room for manoeuvre when the sewage pipes expand in case of heat or contract in the cold.
A lubricant (special grease) makes it easier to put the pipes together.
You can also lay a sewage pipe in the screed. Here, however, a sand bed is necessary as a base.
3. Instructions for laying in the ground
Good to knowIt is best not to plant deep-rooted trees in close proximity to the sewage pipes in your garden, as they can squeeze into the plastic pipes.
Of course, the installation of the sewage pipes does not end in the house. However, all do-it-yourselfers who want to build a house and also want to save a few costs at this point should deal with the matter very carefully.
This is particularly true if the sewage pipes are to run under the base plate. If the subsequent house construction takes place and there are slight displacements, this can affect the entire sewage system and lead to massive damage.
Incidentally, you need a trench with a depth of at least 80 cm. In this way, superficial changes cannot do any harm.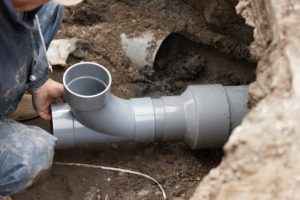 Tricky are places where several sewage pipes are to be merged.
In addition, the trench should be wide enough to allow sufficient space for the outside water pipes with a diameter of 110 or even 125 mm.
First, fill a layer of sand about 10 cm thick into the ditch. The layer ensures that the pipe can be laid undamaged.
Now lay the sewage pipe and also take into account that only smaller contra-angle handpieces should be used in order not to affect the flow rate.
Be sure to check the tightness before refilling the trench. If everything runs correctly, you can fill the trench. Here, too, sand is suitable first to avoid damaging the pipes. However, for the top layer (the last 30 cm of the trench) you can also reach for split or soil.
Above all, remember that you only compact the soil by hand and do not work with heavy equipment. Otherwise, the excessive pressure can cause the pipes to burst. However, if you would like to plan an area above it, this is possible if you lay the sewage pipe at a depth of 1.5 meters.
Tip: Work backwards. So start at the deepest point and grope step by step. In this way, the sockets point upwards, which makes it less easy to deposit the sewage pipes.
Gerhardt Richter is a writer and a trainer at trade technical colleges, specializing in carpentry, plumbing, mechanics and construction.