Sloping walls are cozy, but it's also a challenge to design with a sloping roof and take advantage of space. Whether you want to set up a work or bedroom under the roof or create an enchanting realm for your children, we will show you various suggestions in this guide on how to make the most of your sloping roofs.
Find more great decor ideas and guides in our Home section
1. There are different forms of sloping roofs
Some rooms have a knee stick under the slants. This is the name of a straight piece of wall, over which the slant begins. In these rooms, you can use the sloping roof more easily than when it starts directly on the floor. But there are also different possibilities for the second type.
2. How to make the room open and friendly
Good to know: In elongated rooms, you can use a slanted or a stepped shelf as a room divider. Choose one without a back wall so that it doesn't look too powerful, making it a good solution to design with a sloping roof.
Due to the sloping roof, the rooms at the top of the house seem cosy, but also smaller than the rooms with straight walls. If you want to counteract this impression, it is important that you rely on bright colors. White or light pastel tones on the walls, as well as white furniture or light wood furniture make the room look larger. Don't use patterned or striped wallpaper: anything that darkens or breaks larger areas makes the room appear more cramped and darker.
Large, heavy furniture is not suitable if you want to design with a sloping roof: they often do not fit underneath. They also provide the space and prevent you from feeling comfortable there. It is better if you rely on more delicate models that are chosen as low as possible and give the room a certain lightness.
3. How to design with a sloping roof without giving away space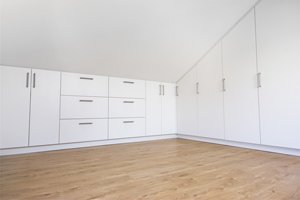 With perfectly adapted built-in wardrobes, you can make the best use of your sloping roof.
In a room with a knee stick, you can set up low sideboards along the straight part of the walls. These offer drawers and storage space in equal measure. Alternatively, you can set up a seating area with low armchairs and a coffee table in a living room. In a children's room, this space is suitable for a play area.
On the other hand, a deep sloping roof that starts directly on the ground is more difficult to use in a meaningful way. Set up chests of drawers or cupboards here, creating a niche behind them. You can create storage space in this way, but cleaning behind the cupboard is expensive. A built-in wardrobe works better here, which adapts perfectly to the shape of your room and allows you to make the most of the space under your sloping roof. Built-in wardrobes also convince visually and also allow you to tailor them precisely to your intended use.
But with a lot of time, some skill and a simple construction instruction, you can also build a suitable piece of furniture yourself. Alternatively, just attach a few clothes racks to the slant and attach a curtain in front of it. The fabric looks friendly, and behind it is your wardrobe.
4. How to design different rooms in the attic
When you think about what you want to use the space with the sloping roof, consider what suits you best in your individual circumstances. Hang so much on your large walk-in closet that you don't want to miss it, set up a study upstairs instead. This is how you beat two birds with one stone: you sit comfortably above the hustle and bustle of everyday life and use the cramped space sensibly. Place your desk sideways under the window, don't bump your head, but use the natural light.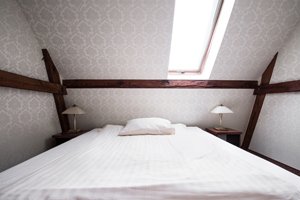 If you place a bed under a sloping roof, you must have enough space to get up.
Set up a bedroom here, the bed should stand in such a way that the slant does not disturb. Place the bed under the window, you can even look at stars at night. But make sure you can get up without having to pull your head in. Alternatively, place a bed with a high headboard under the slant. Behind it there is space for a bed box, in which you can store, for example, spare blankets and bed linen.
As a children's room, you can make the most of rooms with sloping ceilings: play blankets on the floor, low shelves with toys or boxes that fit slightly below the knee stick fill the available space well. The furniture is naturally smaller and often also available in bright, friendly colours. This way, the room does not seem too cramped.
With some clever ideas and some skill, you can also set up a kitchen or living room in a room with sloping ceilings. In the living room, you rely on low storage solutions on the walls and place the seating groups in the middle. However, you can hardly avoid special designs in the kitchen: There are suppliers who sell special sloping roof furniture according to your specifications. These then have corners and slants in the right places, but are often relatively expensive.
A bathroom with sloping ceilings, on the other hand, does not leave much room for manoeuvre: Washbasin and shower need a straight wall. However, a free-standing bathtub always looks particularly beautiful. Place them under the window in the sloping roof, you can watch the stars in the evening while bathing – if that's not a luxury!
5. You can use the sloping roof to attach decorations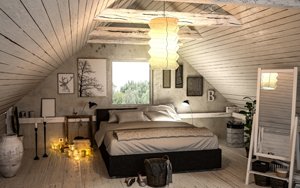 On the gable side of a room with a sloping roof, you can easily hang pictures.
Glue the sloping roof in the children's room with stars that glow in the dark, conjure up a great starry sky for your little ones. For all other rooms, you can play with the slant and include it in your decoration concept.It looks pretty when you put up matching low furniture on a gable wall. The slope runs upwards above it. You fill the larger room on the wall with images that grow larger towards the high center.
If you want to set colour accents, the gable wall is particularly suitable for this in small rooms. If the room is large enough, you can also set off the knee stick or the slant in color. In addition, you can hang pictures or posters or select curtains in front of your clothes rack where the color is picked up again. The armchair covers can also be similarly coloured, so that the intention of the colour scheme seems understandable.
You will ensure more cosiness with a suitable lighting concept. Individual spotlights on the ceiling illuminate the room as you need it. In addition, however, there are indirect light sources, which provide comfort with warm tones. Here you can also try out exciting ideas for the knee stick: For example, let a string of lights run right along the crease.
You can use the sloping roof to attach your TV to it. There are special brackets for this. But if you find it nicer to decorate the slant, you can use:
Photomontages
Pictures
Poster
colorful scarves
Tapestries
attach it to it. For this purpose, appropriate hangers are available, which have been specially designed for sloping roofs.
If you love plants, you can create a small green oasis under the sloping roof. Place your flowers on a low sideboard or chest of drawers. Depending on which plants need more light and which more shade, arrange them in front of the skylight or a little further away.