The car's rims have a great impact on the overall visual effect of a vehicle and are therefore also referred to as the calling card of a car by car enthusiasts. Unfortunately, the face of the rims changes with increasing mileage, as accumulate dirt particles and other attachments on the rim surface. Remedy here is an extensive rim cleaning, but there are some things to note. This guide will show you how to clean aluminium car rims.
Clean aluminium car rims: materials and tools
When cleaning rims, it is basically a combination of chemical and mechanical cleaning, which is carried out with the help of cleaning tools and corresponding cleaning substances. The following materials are recommended for professional dirt release to clean aluminium car rims :
Wheel cleaner for steel and alloy wheels
Rubbing tool, such as brush or toothbrush
high pressure cleaner
Step by step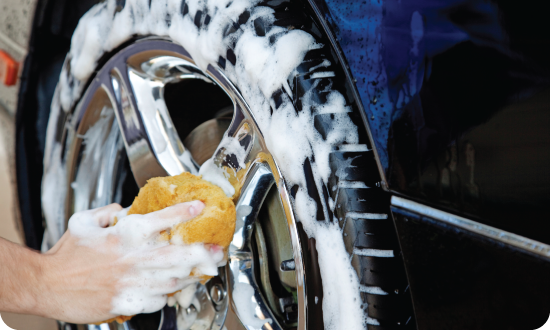 Whether stubborn brake dust or troublesome asphalt residues, with a thorough and careful cleaning even the heaviest dirt can be reliably removed. However, caution is advised, as improper cleaning can affect the appearance of the rims – for example, by dull areas or small scratches – negative. For this reason, the following steps should be completed carefully and in the specified order.
For optimum aluminium rim cleaning, there must be a working surface with drain and high-pressure cleaner available, which is why visiting a car wash is always an option. Even before the actual cleaning process, is the choice of the rim cleaner. Here, the material properties of their own rims should be known and the cleaner should be selected according to these criteria. For example, rim cleaners are mainly used on aluminum and steel rims, which are not high-gloss or chrome rims. The quality of the chosen cleaner should be as good as possible, as this factor is decisive for the later result. Admittedly, there are also guides on the Internet who recommend oven cleaners and other home remedies to clean aluminium car rims, but some of these can actually damage them .
The cleaner is first applied to the rims. The best way to do this work is to use a brush or toothbrush to thoroughly distribute the product. The cleaning substance should be applied uniformly and comprehensively and then act for a few minutes. The exact exposure time is listed on the label of the detergent bottle and should be adhered to in any case.
After exposure, the surface is rinsed off with a high-pressure cleaner, whereby the dirt is also removed. When working with the high-pressure cleaner, only the area of ​​the rim should be sprayed and a constant distance should be maintained. In no case should the nozzle be held directly on sensitive parts such as brake hoses. After this operation, the rim can be dried with a cloth and then shines in new splendor.
Tips for cleaning
In any case, comply with the specified exposure time and not exceed.
When applying the cleaner work in small circular motions