What are the best ways to tidy cables? Our guide shows some easy ways — and some unusual ways to do it at home or in the office.
Find more electrical guides, tips and advice
Find more technology guides, tips and advice
Which devices have particularly protective cables? In the case of an electric stove, the cable does not have to be particularly hidden. In most cases, such fixed utility devices are placed near the socket or the high-current connection and thus automatically cover the cable. 
Why hide cables? In most cases, however, it is not just a matter of optical embellishment. Cable strands can also affect household safety. They should above all act when cables become stumbling blocks.  In addition, some pets, such as dogs, can find loose lyant cables extremely interesting and gnaw at them. This is not only dangerous for the animals, but in most cases it also means a subsequent failure of the respective device.
Which cables are often free in the room? With countless devices, the cables are lying around. Be it a TV with DVD, a video-playing device, a stereo with loudspeaker boxes or a PC with speaker boxes. The same applies to keyboard, mouse, printer, and other devices. 
There are countless cables, including from a landline phone, a Wi-Fi router or for the charging stations for mobile phones, smartphones or tablets. Even floor lamps in the room need a cable. Especially when a main unit is connected to multiple terminals, exposed cable salads are not nice to look at and even dangerous.
Basically, you can of course hide any cable if it disturbs the optics. However, cables or other power lines have a benefit and therefore simply need to be laid at certain points. Without them, the appropriate device would not work. In this respect, When looking for the best ways to tidy cables, remember you can only hide the cable strands visually. 
However, remember that power cables in particular must be handled with care. Do not bend or bend such cables to hide them. Safety for humans and animals should always be a given.
1. Hide cables on the wall
A beautiful flat screen as a TV on the wall is a real eye-catcher – if only the cables weren't. If you even have built your own home theater with many devices at home, it is ultimately many cable strands that hang loosely on the walls. For optical embellishment, you can install so-called cable ducts.
To hide the cable on a wall TV, you can do the following as the best ways to tidy cables:
Required material:
Conduit
Ruler
Level
double-sided tape or screws
Pen
possibly saw
possibly color
Procedure: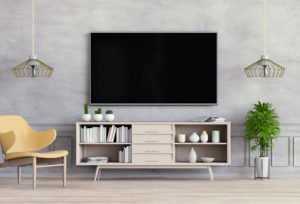 Cables can be hidden in the wall with the appropriate preliminary work.
Measure the length from the wall TV to the floor
Use the saw to shorten the cable duct to the exact length
Using the water scale, position the shortened cable duct on the wall
Now mark three points along the cable duct on the wall with a pen
If you only want to hide one or two cables, you can use double-sided tape. Attach it to the back of the cable duct. Then press the cable duct without a lid in the correct position perimitating the wall. For multiple cables, you should attach the cable duct to the wall with screws.
Then pass all cables through the cable duct.
Then attach the cable duct lid.
Then paint the cable duct in the wall for the optics.
Our tip: To further enhance the cable routing, you can either lay additional cable ducts at ground level horizontally or hide behind the footbar until you reach a suitable power strip.
2. Tidy cables at your desk
Especially on or under desks there are many cable strands. Here, it is particularly worthwhile to run proper cable management, so that the dreaded cable salad is absent. In trading you can purchase several helpes. We present the most important ones here, so that you will soon find more order on your desk When you are looking for the best ways to tidy cables.
| Cable assistance | Functioning |
| --- | --- |
| Cable Jo-Jo | is best suited for individual long cablesexcess length of the cable is guided around the yo-yobeautiful and space-saving |
| Cable hoses | made of durable fabricsuitable for several bundled cables side by sideClosure by Velcro or zipperavailable in several lengths |
| Self-adhesive hooks | best suited in T-shapefor attaching cable strands under the desk plateCable strands are stored invisibly and safelybest to use multiple hooks side by side |
| Self-adhesive cable guides | flexible cable routings for individual cablesup to four cable guides in seriescan be removed quickly and without residueespecially suitable for mobile phone cables, microphone cables, mouse cables, etc. |
| Cable boxes | particularly suitable for large quantities of cablesavailable in different sizes , depending on your needsCable openings on the sides of the boxentire charging stations or power strips can be hidden |
3. Unusual cable hideouts
Sometimes you also have to let your imagination play out so that unsightly cable strands disappear visually.
Putting items in front of the cable salad
For example, if you have many cable strands bundled down on the wall, you can simply put a large painting on an easel in front of it. Even a very large ornate mirror as an eye-catcher could provide a remedy.
If you are a bit gifted by craftsmanship, you can also build an additional gypsum wall at a short distance from the actual wall. In the space between them, all the unsightly things can then be easily hidden. The additional wall can be quickly re-decorated with simple steps.
Flower lovers can place large pots with rare plants in front of unsightly cables. Flower benches are available in all imaginable sizes and shapes. The right solution can certainly be found for every problem.
3.2. Cable as an art object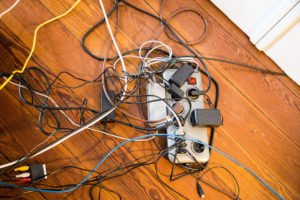 When nothing is possible anymore, simply use the cables as an art object.
How about converting the annoying cable into a true work of art? If you have a large mural as an art object, the cable routing could be inconspicuously placed in the picture. Here, too, there are no limits to creativity and ideas in order to take action in DIY itself. Various ideas can already be incorporated when a new building is mounted.
If it fits stylistically into your décor, you can wrap any cable with an item. A thin hemp rope is best suited for this, which you can also recolor into your favourite colour beforehand. Wooden beads also look very decorative on a cable.
If you are familiar with the sewing machine, you can also make a cable coat from your favorite fabrics. If you add small decorative cushions from the same fabric, you can create a uniform environment. The cable chaos is definitely visually worth seeing.
Attention: In this way, the cables are only made more visually appealing. The danger emanating from loosely lying cables remains.
4. Do without cables
Today's technology offers many innovations also with regard to cabling. In many cases, it is no longer necessary. For example, some devices are already equipped with du connectors by default. The point is that cable connections can be dispensed with. However, the distance between two Bluetooth devices must be only a few meters.
The smart home area is also on the rise. More and more terminals can be connected and operated via W-LAN. In most cases, the control is done via the smartphone. This also eliminates a large number of cable installations.
Speaking of smartphones, charging no longer necessarily has to be done via a power cable in the bedroom or living room. Newer devices can be charged using the induction principle, sometimes even integrated into furniture. The smartphone is simply placed on a Qi charging station and is charged wirelessly. This can be taken into account when setting up. If you are even in house construction, you can install cable shafts directly during the surface-mounted. There are plenty of ideas for this, for example to make cables disappear behind the TV or under the table.