What are the best ways to dye leather? Are there natural ways to dye leather? Our guide explains the best methods and some natural ways.
Leather can fade over time and look unsightly. Especially with expensive products, such as a leather jacket made of smooth leather or a leather sofa that is no longer suitable for furnishing, the question arises whether it is not possible to dye the leather. In our article we will show you how the process can work and in which cases it is not a good idea to change the color.
FAQ: key factors to dye leather
What do I have to consider if I want to dye leather?
It is particularly important that the leather is clean and grease-free, as the colour is otherwise badly adhered to.
Are there different ways to dye leather?
Yes, these differ essentially in that you either only color the surface of the leather or color the leather completely.
Are there also natural methods to dye leather?
Of course, you can also rely on home remedies. With coffee, black tea or sunlight, for example, different shades of a beautiful brown tone can be achieved.
1. Clean the leather before dyeing
If you want to recolor leather, the basic requirement is that the respective leather is clean and grease-free.
Therefore, it is best to carefully clean the respective leather products with a special leather soap. If, on the other hand, if you only work with water, stains can easily form, which remain visible even during later recoloring.
Make sure that the leather has enough time to dry properly. However, do not place a leather jacket or belt on the heater to speed up the process. This can lead to cracks that are difficult to repair.
If the leather seats in the car and the leather jacket have dried, degreasing is then necessary. Especially if leather is regularly maintained, working with a special leather degreaser can take a little more time.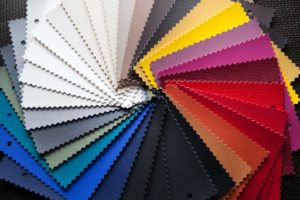 The beloved object does not always match the appropriate color.
Before you can start dyeing the leather, it makes sense to roughen smooth leather a little. This is particularly successful if you use fine sanding paper with a very high grain (about 1000).
In this way, superficially applied colors adhere very well.
With rough leather, such as suede shoes, you can save yourself the roughening and start directly with the actual recoloring process. Degreasing is also not necessary in these cases.
Tip: If you want to dye leather, choose a darker color than the product had before. Otherwise, the process becomes very difficult and the result is often unconvincing.
2. Methods to dye leather
Good to know: You can also use opaque leather color to recolor shoes, for example. This offers the advantage of being able to lightly color even dark leather shoes. Unfortunately, in this variant, the properties of the leather are lost, as the layer seals the surface. 
In traditional dyeing of leather, this is always dyed through. The entire pieces of leather are completely immersed in colour,so that not only the top layer, but the entire leather is coloured.
In this way, damage points are also less noticeable. However, the classic leather colouring is usually not a good option for home use. This is especially true when it comes to leather seats in the car or a leather couch.
Instead, use a leather dye or a leather paint spray, just treat the surface. Basically, this is completely sufficient to have some of the desired hue for a long time.
However, it becomes problematic in places that are exposed to a very high load. Car seat covers or even the couch are therefore rather difficult. The leather jacket or armrests are better suited for colouring.
The dyeing process itself is as follows:
Glue zips and buttons that you don't want to dye.
Next, apply a primer. This ensures that the subsequently used paint adheres better.
Depending on which primer you use, you now have to wait a few hours before you can start applying the colors.
Now comes the color application. The result is particularly even with a matching leather spray. However, if the application is rather difficult due to the nature of the product, apply the paint with a sponge. Make sure you apply evenly and avoid using too much color.
Allow the paint to dry well afterwards. If you are not convinced by the result, repeat this step again.
Finally, seal the surface (for smooth leather) so that the color is preserved longer and does not fade so easily even in the sun.
3. Home remedies to dye leather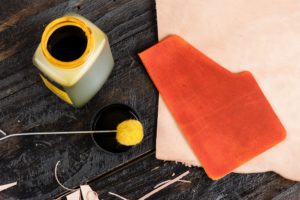 Wear gloves and ventilate well when dyeing leather.
As an alternative to artificial dyes, you can also use home remedies to recolor your leather accessories.
Try one of the following variants if you want to avoid comparatively expensive leather dye products:
Wooden stains: On the DIY store shelf you will find wood stains in numerous colour variants. It is best to apply the pickle with a fine brush.
Shoe cream: With this method, you deliberately use a "wrong" shoe cream. The hue slowly passes to the leather. However, too big changes are not immediately possible in this way.
Vinegar and rusty nails: Leave rusty nails in a litre of vinegar for about a week or two. The resulting connection is excellent for colouring leather black.
4. Tips for leather care
Good to know: Unfortunately, leather production is far from environmentally friendly. It is best to research which chemicals are used in the leather type you have.
Regular care is essential to ensure that the freshly coloured leather accessories remain beautiful for a long time to come.
Practice a little patience, especially at the beginning. Therefore, give the leather products about 2 to 3 days before you can use them as usual.
By the way, the dye should not dissolve in the washing machine. Too frequent washing, however, affects the surface in the long term, so that the old paint can reappear in places.
Therefore, it is best to ventilate leather garments only and use good oils and waxes for leather care .
At least 2 times a year you should dedicate yourself to care in order to have something of a special piece of leather for a long time to come.
Tip: Small cracks in the leather can be repaired by using leather glue or special leather fillers.