Hand ups, which of you writes a personal diary or travel diary? Those who travel a lot experience many adventures and beautiful things. Only those who write them down can preserve memories and impressions of the journey and experience them again and again. Our guide shows how to make a travel diary as a trip souvenir.
Therefore, a travel diary you create is the ideal solution for a holiday or city trip. Thoughts, adventures, experiences and expenses can be written down day by day. For this purpose, we stick in the travel diary any photos, tickets or other souvenirs of the trip on the way… perfect.
The personal travel diary is therefore one of the most beautiful souvenirs of travel. Do you think you can remember your travels by looking at only the snapped photos after years? We don't believe. You will not remember exactly your special moments, encounters, feelings or even places. Therefore, write down everything in your own diary.
Make a travel diary as a trip souvenir to record memories
There are several ways to keep a diary on holiday: by hand in a beautiful travel diary, via app with mobile phone or iPad. Travel blogs like this one are also ideal for writing rice diary in public.
The difference to the personal notebook and public blog are that I don't reveal many things and thoughts. These are and remain private and end up in my handwritten diary.
For a long time I was looking for THE ideal notebook for experiences and memories. I haven't found one. Either they were too playful (childish) or the lines were simply missing. Some like blank travel diaries without lines. 
"Make your own travel diary to write yourself, you have the experience in it!" – so my friends. Somehow they were right. And now it's time!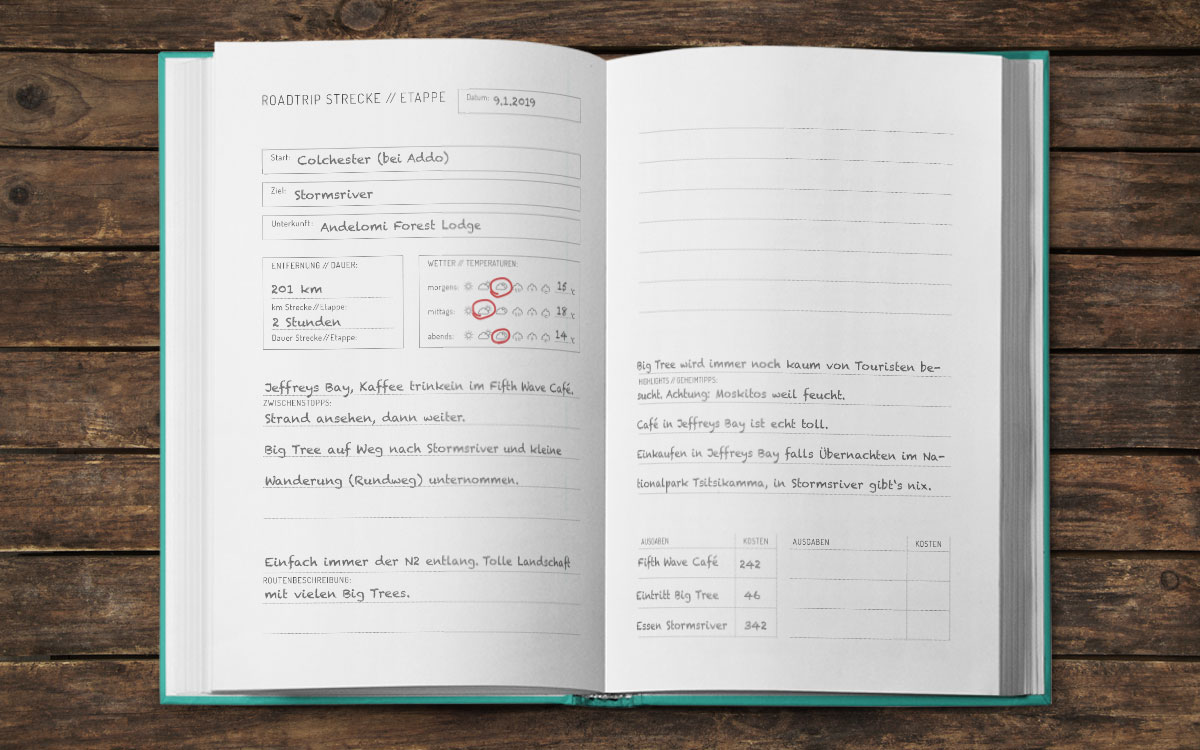 Travel diary as a trip souvenir: why it's a good idea
On my first holiday with my backpack I did not write a travel diary. What a pity. I don't remember exactly where the many photos were taken. Also not as the people in the photos were called (at that time there was no Facebook or Instagram). Or the places that particularly touched me, memories, adventures, valuable information and highlights. I can't share tips for great cafes, activities and restaurants. Everything is forgotten over time and not written.
Just taking a lot of photos with the camera doesn't mean we can remember everything. That is deceptive.
Take a test! Ask your friends or colleagues for tips on a specific destination. Often they don't know what the great accommodation was called or what it cost. Even if the journey is only a short time ago. Any valuable information you could share with others if you had noted it.
Like a flood, new information is pouring in on you. Back at home you will be annoyed, If you forget to write down these impressions on the way.
Whether it's boring, exciting, unique or touching your story, don't rely on the hard drive in your brain. Your travel diary is your personal travel insurance before you forget and disappear your memories – never see you again.
What were the beautiful ones, which were the less beautiful adventures in your holiday? I wrote down my highlights in my travel diaries. Of course, there were also moments when I wasn't doing well. Or thoughts I had on the way. Notes that I'll enjoy later.
There is no better memory than a travel diary full of memories
Travel diaries often look used. Mine are inflated by the humidity in the rainforest of the Sierra Maestra (Cuba). Or have even been completely soaked in the monsoon rain on Ko Tao. Some pages contain coffee marks or scribbles. Some pages of my old travel diaries are only loosely in the book ). Others contain handwritten tips from people I've met while traveling. I also stick photos in there.
I collect everything
Tickets, tickets, receipts and city tickets, addresses and stickers handwritten on torn paper. Since Cuba, there have been replaced bottle labels, mainly from beer bottles. At home, I stick everything in. From time to time, costs and expenses are also listed more or less chaotically.
If you like to paint and draw: do it.
Make your diary colorful
These keepsakes are more than a string of words. It's a very personal memory that no one takes away from you.
I guarantee you that after years it is great fun to take a travel diary back in your hand and revel in memories. At the very end I added a few more pictures from my travel diaries.
Make a travel diary as a trip souvenir: how to design it
Notebook, photo book, app or laptop?
Are you more of a fan of notebooks or do you prefer to type everything in digital form into the app or your computer? If you're more of a digital fan, you can write directly on your laptop or tablet.
A notebook with correct pages is my favorite. I always have this at hand to write down even small details. With your phone, the battery often goes down if you want to write something down. That's why I always pack notebooks for travel.
Tip: Take a spare pen with you.
Only once did I have to type my travel diary with the iPad: when I had broken my two radius heads 2 years ago (both elbows at the same time). Stress was forbidden and holding pen unfortunately did not go at all.
How to write: Narrative form or dot points?
It doesn't matter if you write down your notes in narrative form or as a point-like list. Everyone ticks differently. I prefer the detailed version. When it comes to keywords, I am afraid that I might forget something important. Many prefer a version with key points. This is not so expensive and goes much faster. If it takes too long for you, take a short time and forgo extra details.
Write daily
Ideally, you'll record your travel experiences every day. The more "fresh" the better. The evening is ideal for writing. Then you can process and write down the experience experienced during the day. A few days later, you find it difficult to remember some details and names.
The fact that you are writing down valuable memories for the future will only become real to you after your return. But then the joy of it is all the greater. You will notice: You have already forgotten many details and give you great pleasure.
I also try to write down my impressions and experiences of the day always in the evening before bed. If there is a long transfer the next morning, I will do my daily entry there.
Write legiblely
If you write by hand, make sure that you can decipher your own font at home. I speak from experience…
Write dates and locations
Very important: Always write the date, perhaps the place of the event and the day of travel (day 1, day 2, …) for your entry.
It is always very important when writing a diary that you write down the date, possibly the day of travel (day1, day2, etc.) and the exact location of the event in the heading of each diary entry. This makes it much easier to prepare the diary later.
Write for yourself
Always remember: you write first and foremost for yourself. Don't adjust. If you want to share it with other people, do it.
Make your travel diary colorful
Glue everything you associate with your trip or day: tickets, tickets, receipts and city tickets, stickers and bottle labels. Sketch drawings or paint pictures in. Your travel diary becomes more exciting the more you put into it!
What to write about or what to stick into it?
If you want to write a travel diary but have no idea what to write about, Here are some tips. You'll find that as soon as you travel, the content comes by itself. Try it out!
The first impression and your feelings
What smell, colour, sounds and tastes do you associate with the place?
Which places, accommodations and restaurants did you particularly like and which did not? Write down the names, you will forget them otherwise
Which food did you particularly like, which food should you leave your fingers on?
Important translations (I don't like coriander, i don't like the Spanish word "cilantro" I wrote down, I don't forget it anymore)
Interesting stories about places and people you've been told
How long did your transfer from A to B really take and what did it cost?
What is the best way and the best way to get from A to B?
Has something funny happened to you?
Which fat bowl should you avoid next time?
Have you had trouble getting cash in one place?
Glue photos (e.g. taken with an instx camera).
Glue tickets
Travel diary as a farewell gift for friends?
If you have a friend who is going on a trip, a travel diary makes a great farewell gift for them. For my road trip through Canada in winter, I would have needed a travel diary. Or for Australia. To be able to write down the costs day after day alone, or the kilometres and hours driven would have been better stored in it in hindsight than in the mobile phone with notes. In my books I have recorded all the personal experiences and adventures of my travels.
Author: Genevieve Dumas is a food, fashion and beauty stylist from New York, who has worked for a range of major magazines.