Are there easy ways to make a privacy screen for a balcony? Yes, our guide shows you several ways to do this — and without costing too much.
Find more great home decor guides, tips and advice.
Can I make a screen for the balcony myself? There are many variants in which you can quickly produce a proper visual protection without great craftsmanship.
Can I build a screen from pallets myself? This method is especially useful if you only need visual protection in one area of your balcony, otherwise the effort is relatively high.
As a tenant, am I entitled to a privacy screen on the balcony Unfortunately, this question cannot be answered uniformly. In particular, however, structural changes are not possible without consultation with your landlord.
A balcony is a wonderful thing. Especially in the warm months of the year you can organize nice barbecues here or just enjoy your peace and quiet.
In order for this to be possible undisturbed, however, a screen should not be missing. We will therefore show you how to make a visual protection for the balcony yourself. In addition, we give tips on which ideas can be implemented quickly and cost little.
1. Make a privacy screen for the balcony yourself
Not every balcony railing is opaque to protect you from prying eyes. However, in order to make you feel completely comfortable, visual protection elements are available.
Luckily, you don't have to put on expensive finished constructions, but can also put on your own hand and design your own personal screen.
It is best to orientate yourself on your individual preferences,the complexity of the structure, the long-term and your personal budget.
2. The screen on the balcony of the rental apartment can become a problem
If you live in a rental apartment, a few special features apply. Especially for larger buildings with several balconies, it is a matter of creating a uniform building facade.
On the other hand, you may fear less trouble if you attach a screen inside to the parapet. In case of doubt, however, it is worth talking to your landlord in advance before acting on your own initiative and attaching a screen.
3. Make a privacy screen for the balcony yourself – you have these options
There are many different ideas to make a balcony with a visual protection opaque. We would like to introduce you to some simple and a few more elaborate methods in the next lines.
3.1. Fabric screens – fast, easy and effective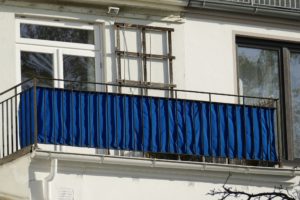 A fabric screen helps with undisturbed privacy.
If you want to make a visual protection for the balcony yourself, the simplest of the ideas is to stretch a fabric web along the parapet.
As a material, solid substances that are weather-resistant can be considered. Particularly suitable is, for example, awning fabric coated with plastic.
If you still have an old awning, you can remove, wash and repurpose the fabric web.
Alternatively, you can of course also use new fabrics or order a balcony covering directly online.
If you want to use your own fabrics, sew the edges around to create a nice finish.
The great advantage of the purchased fabric is above all that the fabric is already cut at the appropriate height and only needs to be shortened in length. In addition, the visual protection can be fastened quickly and easily to the balcony railing with cable ties due to existing eyelets.
Tip: If your balcony has quite narrow rod connections, you can also provide a visual protection by using the visual protection strips of a double bar mat fence.
3.2. Use pallets as a visual protection for the balcony itself
Pallets have become much more important in recent years. More and more people are recognizing the manifold design possibilities and taking the time to repurpose the resilient wooden panels.
Depending on the height of the balcony railing, you can set them up and thus easily create a visual protection.
With a few additional boards you also create storage space, which can be used on the balcony for storing barbecue cutlery or as a flower box.
However, before you set up the pallet, grind the wood and calculate the height for your balcony. Then paint the DIY screen with weatherproof paint.
If you only need the visual protection from one side, a double pallet is recommended. Alternatively, you can screw two pallets together. However, due to the height, stability is a problem in windy places, so you should fix the pallet at several points.
Tip: You can also attach the pallets with cable ties to bypass a permanent screw connection.
3.3. Flower boxes – this is how you provide a green visual protection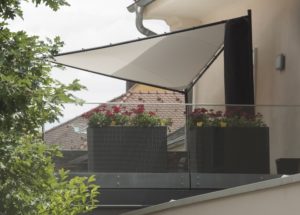 Create a natural visual protection.
If you love plants and your balcony is not too small, you can provide a very natural visual protectionby placing potted plants and at the same time attaching flower boxes to the balcony railing.
Both the lower and upper areas of the balcony railing are protected from prying eyes without having to spend additional money on special visual protection systems.
The great advantage of this slightly different visual protection variant is that you can easily push the plants back and forth if necessary to have a clear view yourself..
3.4. A side awning – extendable visual protection for the balcony
If you not only want a visual protection at the height of the railing of your balcony, but also a variant in which you feel completely unobserved, a side awning is suitable.
You can either mount them directly on the wall of the house to shield one side of the balcony or you can use side awning in a corner that can be pulled out in two directions.
With the combination of both variants, you achieve all-round protection, which you can either open or close sideways.
3.5. Bamboo – the tropical variant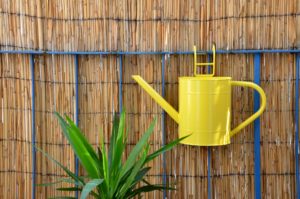 Bamboo mats are relatively inexpensive and quick to install.
For a little tropical flair on your balcony, use bamboo or reed mats. These are available in different heights and widths, so that the mats can be individually adapted to your balcony.
Combine this idea with a palm tree in a pot and a lounger and you will have the perfect ambience to even miss out on your holiday.
Tip: There are also slightly more expensive, but more durable plastic versions in bamboo look, with which you provide a nice visual protection.
3.6. Plexiglas as a wind screen
If you do not want to make a screen for the balcony yourself, but are looking for a pure windscreen, Plexiglas is a good place to start.
The individual panels can be screwed inside directly in front of the balcony parapet, so that it becomes much more windless.
As an alternative to the transparate version, however, plexiglass is also tinted, so that there is some visual protection.