What are the best ways to clean and protect sandstone? Our guide takes you through the best methods to get the best result — and what to avoid doing.
Find more great cleaning guides, tips and advice
Are there different types of sandstone? Yes. It is difficult to cite typical material properties in sandstone, as the natural product is available in many different degrees of hardness.
Does it make a difference whether I clean a chimney made of sandstone or terrace slabs? In contrast to sandstone for outdoor use, sandstones that are only used inside are much more sensitive. Therefore, be particularly careful when cleaning and think about the impregnation.
Can I also use home remedies to clean sandstone? Basically, special cleaners are much better, so you should think very carefully about whether the savings pay off in the long run. In any case, you must be careful not to use acidic products such as vinegar. The best way to test the use of soda is to use it in an unobtrusive location.
A sandstone terrace is warm and inviting. It is not for nothing that the natural stone enjoys great popularity in many different versions.
However, in order to keep the sandstone facade, the natural stone wall and the pavement slabs beautiful for as long as possible, you should clean and maintain them from time to time. We will show you how to clean and protect sandstone and give tips on which means you should avoid.
Best ways to clean and protect sandstone
1. Gentle care – clean sandstone gently
Sandstone is used in many different ways. The natural stone is often described as soft and porous, so it is very difficult to clean it. In fact, however, this only affects part of the sandstones.
Tiles or a sandstone window sill are usually much harder and therefore less sensitive. The high quartz content ensures that sandstone floor coverings are very robust. Sandstones can therefore be used both in the bathroom and living room as well as in the exterior of the terrace design.
However, as with all natural stones, you should refrain from aggressive cleaning agents to remove dirt. While you can vacuum and wipe indoors, the soft brooms are used outdoors. But there is also nothing wrong with the hard brush to clean moss and black spots on the light sandstone.
Tip: Always proceed in stages during cleaning. Therefore, try warm water and mild cleaners in low concentrations before daring to use other methods.
2. Clean sandstone – remove stains
Good to know: Please avoid vinegar or hydrochloric acid when cleaning sandstone. The acid can cause the surface to be eaten or remove the sealant or impregnation treatment, causing stains to occur.
Unlike other types of rock, sandstone, unless impregnated or even sealed, can absorb water to some extent. How much water the sandstone can absorb depends on the degree of hardness, which can be very different. Although this is not a problem in principle, it leads to liquids entering the stone more quickly and subsequently leading to stains.
It is best to clean dirt, such as a spilled drink, so immediately with a rag, so that the liquid has no time to settle in the stone.
A small spray bottle with some warm water is ideal for working in spots. Add a little core soap or a splash of a special cleaner and rub the stain with a brush.
For heavy dirt, it is better to use the bucket of water and scrubbers to scrape off the surface.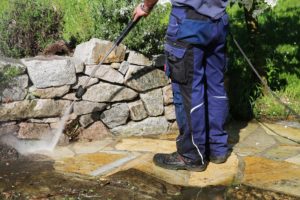 Do not clean by means of a high-pressure cleaner.
either scrape off with a spatula and then brush as usual
or leave to act with more water and the appropriate cleaner for about 30 minutes (the place must remain moist).
In any case, you should then carefully wipe sandstone with a little water,so that the cleaners do not work too long and thus a color difference to the remaining sandstone surface becomes visible.
As an alternative to typical sandstone cleaners, you can also rely on chlorine. Applied in low concentrations, chlorine is harmless to the environment. After cleaning with a chlorine-containing solution, you should rinse the residues away with water very thoroughly.
Attention: The cleaning with the high-pressure cleaner is problematic. Even if it seems to be good results, the surface often suffers because too much pressure is exerted on a place. The dirt is also pressed deeper into the rock, but not removed.
Cleaning with a steam cleaner, on the other hand, is not objectionable.
3. Impregnate or seal sandstone – two ways to protect the stone
With an impregnation, you protect sandstone from environmental influences.
Since the removal of dirt is probably not really fun for anyone, it is a good way to keep the effort as low as possible in the future.
By impregnating sandstone, you can significantly improve protection against environmental influences. Since sandstone is mostly used outdoors, this method is particularly suitable. The impregnation ensures that less water can enter the stone. This made it harder for algae or dirt to adhere to the surface.
The impregnation lasts on average for about 3 to 4 years, but does not completely release you from further care.
If you want to protect sandstone even better against environmental influences, you can also seal the surface. As a result, no more water enters the stone. At the same time, however, you also fundamentally change the appearance, as the sandstone is no longer rough, but smooth.
This increases the risk of slipping on wet days and causes water to stick to the surface and stand on the terrace.
Due to the rather questionable improvement, sealing is only recommended in exceptional cases. On the other hand, you can use an impregnation without hesitation.