How do you upholster a chair? Our outlines the steps for you to replace upholstery easily.
Find more repair guides, tips and advice
Find more home decor guides, tips and advice
How expensive is it if I want to reupholster a chair? This depends crucially on the size of the chair and the choice of fabric. For more simple fabrics, you can calculate material costs of approx. $30.
How long does it take to re-upholster a chair? If everything is ready, you can look forward to a newly upholstered chair after only half an hour. It usually takes much longer when it is complicated to remove the old tacker needles.
What should I pay attention to when selecting the upholstery fabric? If this is your first attempt to re-upholster a chair, you are relying on a pattern that does not need to be precisely aligned. In addition, the fabric should be very robust, so that you still enjoy the newly upholstered chair after a few years.
Over the years, upholstered chairs have a lot to endure. Over time, the seat suffers. Often not only the fabric becomes unsightly, but also the foam underneath begins to crumble. However, in order to preserve your still beautiful chair, we show you in our article how to upholster a chair. Incidentally, this is not as difficult as you might think.
1. Upholster a chair: steps
If you want to renew an old chair, first remove the old upholstery. This is usually fixed by means of tacker needles below the seat. To pull the tacker Staples, it is best to use a slotted screwdriver in combination with pliers as the Staples are sometimes very tight in the wood. A ungrippercan can be useful, but it is often too weak to remove fixed brackets.
Once this is done, cut the upholstery with a cutter or scissors and remove the old fabric. Often you will discover a crumbled foam cushion, which can also be replaced.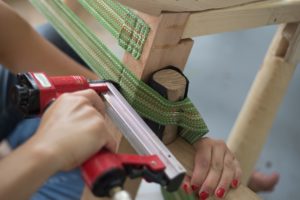 It is best to retighten the straps.
The basic structure of the seat of the chair, which consists of toned straps, belts or even a spring basket, can basically remain.
Especially with belts, however, it makes sense to loosen them carefully and re-tensionthem. The ends are best turned over and then fixed with a tacker.
Of course, you can also completely replace an old spring basket with a new one, if one or the other spring already gives a slightly battered impression.
When restoring, it is best to remove the old seat covers first to get a better overview of what materials you actually need if you want to re-upholster the chair.
2. The necessary material for a dining chair
If you are reupholstering a chair yourself, you will need the following materials:
Upholstery fleece or upholstery wadding (Enough to cover the seat with about 15 cm extra on each side)
Foam (must not be larger than the seat)
solid upholstery fabric (also generously measured)
Spray
In addition, the following things are optionally necessary:
a wide jute belt as suspension (alternatively a new spring basket)
Piping (for cover)
In addition, a professional tacker, a good cutter knife, a screwdriver, a pliers and a unplugper are helpful for renewing old upholstered chairs themselves.

When selecting materials, pay attention not only to the costs, but also to the durability. While you can use a rather simple, low-weight foam for a chair back, you should choose a good foam with a high room weight when applying the seat.
The fabric also wants to be well chosen. In principle, you have many different options here. Commonly used are mainly solid cotton and linen fabrics.
Alternatively, you can cover the chair with leather or use velvet. However, these two options result in significantly higher costs, so your DIY project easily exceeds a small budget.
In principle, the material list hardly changes if you want to upholster a bar stool or re-refer to the backrest of a chair. However, always pay attention to how large the area is in order not to buy too little or too much material.
3. How to upholster a chair: steps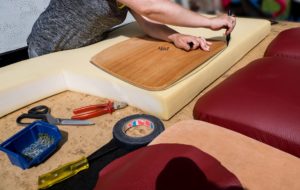 Adjust the size of the foam cushion as accurately as possible.
If the old upholstery is removed and there are no more disturbing clamps or nails in the chair, it can start.
First, cut the foam exactly as big as the seat is out. If you do not dare to do so, you can also spray and press the foam cushion and the seat directly with spray glue. Afterwards, simply remove the protruding sides with a cutter knife.
Next, cut the fabric so that it can have about 10 to 15 cm on each side. Now cut off the corners in a square so that only the sides survive. In this way, you have enough play to hold the fleece well stretched at the bottom of the seat.
Now all that is missing is the selected new upholstery fabric, which should also overlap 10 to 15 cm. The only difference to fastening the fleece is that you do not cut the upholstery fabric at the corners.
However, to ensure a clean result, fold the fabric around the corners. In this way, first stretch the side from right to left and then from front to back.
4. Tips for selecting the fabric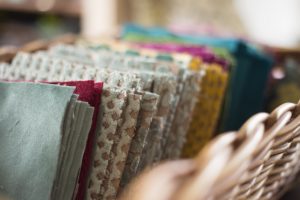 There are many different fabrics that are ideal for upholstering a chair.
In principle, you are of course free when you consider which cover is suitable for the respective chair.
However, keep the following tips in check so that the result surprises you positively:
Use a sturdy fabric. If children or animals live in your household, easily washable fabrics are particularly suitable. Alternatively, some substances can also be impregnated retrospectively in order to be better protected against dirt.
Make sure that the cover of the seat cushion fits the backrest.
Be careful when choosing a pattern. When clamping, the fabrics always warp slightly. Especially with straight lines or a geometrically perfect pattern, a lot of sensitivity is required to align it exactly.
It is much easier with plain-coloured fabrics or patterns, which do not require exact alignment.