What are the best ways to grind coffee properly at home? Our guide outlines the different methods, depending on how you prefer to make coffee.
Find more food and drink guides, tips and advice
How can I grind coffee properly? Since there are many different types of coffee preparation, you can't go wrong in principle. However, the type of preparation should match the fineness of the grinding degree.
Can I use a food processor to grind coffee? In principle, this is possible for many models, but not recommended, as the grain size is not uniform.
What do I have to consider when choosing a coffee grinder? First, you can choose between manual and electrical devices. Far more important, however, is the grinding mill. Good models have a cone grinder to ensure uniform grinding.
Grinding coffee is a special art. Nowadays, however, most people are enjoying their coffee in a special way.
However, if you do not want to resort to the finished ground powder, but to experience unadulterated and special coffee enjoyment, there is no way past your own coffee grinder.
1. The best ways to grind coffee properly
Self-ground coffee is not just about pure enjoyment. The preparation by hand has something meditative and makes the coffee break a special experience.
However, there is not always time for this in everyday life, so even less elaborate methods are possible if you want to grind your coffee yourself.
We will show you the most important tips for the best ways to grind coffee properly :
If you grind coffee coarsely, bitter substances form less quickly. Therefore, nothing stands in the way of a longer brewing period.
For finely ground coffee, make sure to have a short brewing time. In this way, finer flavourings can also be perceived. This is especially useful if you grind espresso beans.
If you want to cook a cup of coffee (150 ml), you need about 2 tablespoons of beans. Depending on the desired strength, you deviate from this mean up or down.
Tip: If you are unsure which grinding degree is suitable, it is best to experiment with small amounts a little.
If you would like to have your coffee ground, take into account that the grinding degree may vary a little depending on the machine.
2. The use of the coffee grinder
You can use either an electric machine or a manual machine to grind coffee.
The handling of the electric machine is usually a little easier. However, many coffee experts tend to use a manual coffee grinder.
The question of whether the mill should be operated by hand or electrically is therefore more about technical simplistics than an actual difference, provided you compare two mills with similar grinding mills.
In any case, you should rely on an effort with cone grinder, since the grinding degree here is very uniform. With cheaper sliced or crushing mills, you produce relatively much fine dust even with a coarse mixture, so that the coffee tastes bitter quickly.
The way the models work is simple. Enter the desired amount of beans, set the appropriate grinding degree and rotate or press a button.
Remove the finished powder and brew your coffee fresh.
Especially with larger coffee quantities it can be a little strenuous with the manual mill. However, the larger experience is guaranteed in this way.
Tip: Coffee machines grind the coffee beans just before the preparation. However, you usually have no influence on the brewing time here, but only on the grinding degree.
3. Alternative methods by which you can grind coffee without a mill
You don't have a coffee grinder at hand, but you don't want to give up your whole bean coffee, so you can try the following alternatives: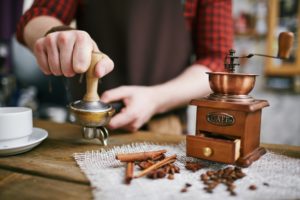 Mixer: This simple version requires some sensitivity, as you can't adjust a stand mixer.
Thermomix: The grinding degree can be adjusted relatively precisely. But don't try very few beans.
Grain mill: This is where the grinding mill is very important. Depending on the model, it is quite possible to grind coffee.
However, the device should be suitable for oilseeds. A classic stone mill, on the other hand, is too weak for coffee beans.
Mortar: With very few beans, you can also bet on the mortar. The biggest advantage is that you achieve results quite well with a little feeling. You also save time because cleaning is very easy.
4. The ideal coffee grinding degree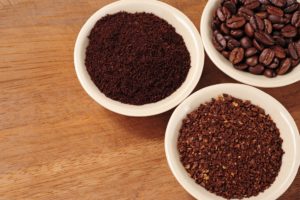 The grinding degree changes the taste of the coffee.
Depending on the desired taste, the preparation of the coffee should be adapted. The finer the grinding degree, the shorter the coffee flour should have contact with water.Otherwise, bitter substances are produced very quickly, which cover the fine flavours.
If, on the other hand, you tend to the French Press variant, where the coffee powder can draw for an average of 4 minutes, coarsely ground coffee is a good option.
With classic filter coffee, a medium grinding degree is suitable.
If you use a hand filter, pour some hot water through it in advance. In this way, possible taste impairments disappear through the paper.
Tip: You can also often have coffee ground at the bean supplier or roaster. In the on-site coffee roaster, the coffee experts can also explain in detail which variety is better suited for a coarser or finer meal.