How do you paint tiles? If the tiles in the bathroom no longer look beautiful or the tile mirror in the kitchen does not have the right color, then there is a very simple solution: paint tiles. With special tile paint, unsightly tiles can be quickly transformed. Read our guide on how to do it.
Find more repair and renovation guides, tips and advice
1. Reasons to paint tiles
If you don't like your old tiles anymore, you don't have to remove them these days. There are now other methods for embellishing your tiles.
Unlike an expensive renovation, where you have to buy new tiles, colouring the tiles with fresh paint is much easier. In addition, you save a lot of renovation effort and a lot of time and dirt by painting over.Good to knowIn addition to the possibility to paint tiles, you can also stick tiles over. There are also special foils to buy in the DIY store.
Read here what the benefits of painting tiles are:
Painting tiles is particularly fast.
The apartment stays clean when no tiles need to be removed.
You save a lot of costs and valuable time.
Tiles can be painted by anyone, you do not need to hire a specialist.
2. How to paint your tiles in kitchen and bathroom
If you want to achieve a clean result, you should proceed step by step when painting the tiles. Below is a guide to how to best restore shine to your tiles.
2.1. Clean your old tiles thoroughly
If you want to repaint your old tiles, follow our instructions.
Before you can start the actual painting of the tiles, you need to clean your bathroom or kitchen thoroughly. In order for the primer and tile paint or varnish to actually hold at the end, the substrate must be clean. This means that there should be no deposits such as lime stains or soap residues on the tiles.
The joints are a particular challenge. These must also be cleared of dust and dirt. A normal cleaning agent may not be sufficient to loosen all stains. Therefore, you may need to use a special tile cleaner.
These work well against hidden dirt, which is often overlooked when cleaning. A cleaning spray can be easily sprayed onto the surface. After a short period of use, you can then rub the tiles with water and a cleaning cloth as usual.
A toothbrush is handy for cleaning the joints. This even allows you to get into the corners and brush the joints properly.
2.2. Prime the ground

The next step is to prime the tiles. To make the primer more sticking, the tiles should not be as smooth. This means that you have to get to work to work the tiles with a strong sanding paper.
What is still possible manually with a small tile mirror in the kitchen, becomes very impractical in a bathroom. Therefore, it is best to get a grinding machine.
In this way, the grinding and roughening of the tile surface proceeds quickly. Then prime the surfaces completely with a small rolland don't leave out corners and edges.
2.3. Paint your tiles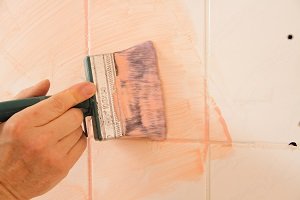 Apply a primer before painting.
The next step is to paint the tiles for a first coat. Roll the paint or varnish evenly over the tiles and make sure that nothing drips on the floor.
Before you can continue, you have to wait, because now the first layer of paint has to dry completely. To do this, it is helpful to ventilate both the bathroom and the kitchen well. In addition, you should hardly use the rooms during the drying time, so that everything can harden properly. You can then apply the second layer.
If you have very dark tiles as a substrate, a third layer may be needed to cover everything.
3. Other special features when painting tiles
Some tiles are not painted at all or are difficult to paint:
| Peculiarity | Description |
| --- | --- |
| Slate Tiles | Slate is a natural material.It can be found on roofs, as wall or floor tiles.Dirt is difficult to remove from these tiles.Have the tiles prepared by a specialist rather than painted. |
| WPC Tiles | These tiles are made of a composite.They can be found mainly outdoors, e.g. on terraces.The tiles cannot be painted and do not take on any colour.The tile material must be impregnated regularly. |
4. What you should consider when renting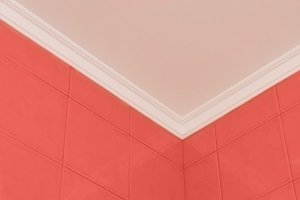 When painting over tiles, you should pay attention to the colour quality
If you own a rental apartment, you should not simply resort to colour. First, contact your landlord and discuss the renovations carefully to avoid controversy.
Even if the tile color is a matter of taste, you can't decide on it alone. If you do not observe this proposal, the landlord can have the painted tiles renewed at your expense or claim damages after your removal.
5. FAQ on painting tiles
What is chalk color?
Chalk paint has a high opacity and is therefore ideal for painting tiles. Especially dark tiles can shine through if they are not painted opaquely.
Your bathroom appears in an intense new hue. The surface of chalk paint looks velvety and gives the tiles a particularly noble look.
What to consider when painting floor tiles?
If you want to beautify your walls, but also the floor according to this instructions, you can also paint floor tiles.
However, make sure you have a high-quality colour that is extremely abrasion-resistant.