What are the best ways to clean porcelain stoneware tiles? Our guide shows you the best methods, with and without detergent — even if the tiles are brand new.
FAQ
Are porcelain stoneware tiles easy to clean? Yes, the material hardness ensures that dirt can be easily detached from the surface.
Does sealing make sense for porcelain stoneware tiles? By sealing, you improve the dirt-repellent properties of the tile. However, due to the relatively easy care, this is not absolutely necessary.
How can I clean porcelain stoneware tiles without smears? Use cleaning agents without surfactants as one of the best ways to clean porcelain stoneware tiles. Surfactant-containing cleaners can easily settle on the tiles. In this way, dirt particles have an increasingly easy way to stick there.
Many modern tiles are made of porcelain stoneware. The reason is simple, because the material convinces by its special hardness, so that dirt can not easily penetrate into the interior of the tile. At the same time, the exact edges allow very narrow joints between the tiles to achieve an elegant look.
Find more great cleaning guides, tips and advice
Ways to clean porcelain stoneware tiles

Of course, however, even porcelain stoneware needs a little care. In our article we therefore give you tips on how to clean porcelain stoneware tiles.
1. Clean porcelain stoneware tiles – this is how to proceed
The low water absorption of the particularly hardened porcelain stoneware makes the tiles a grateful floor. Dirt and dust are noticeable on the surface, so you have to reach for a broom or vacuum cleaner regularly. When cleaning, however, it is very easy, as hardly any water can penetrate the tiles.
So you don't have to worry if you want to clean with plenty of water to remove stubborn stains.
Porcelain stoneware tiles are also very robust, so you won't do any damage even with strong cleaners. As a rule, however, even low-dose cleaners are perfectly sufficient to clean a surface without leaving streaks. Warm water with a little vinegar is also sufficient to ensure an excellent swipe result.
A particularly environmentally friendly method is the pure steam cleaner. Here you can do without any chemicals and clean the floor only with hot steam. The high heat also ensures that a disinfectant is not necessary to kill most bacteria and germs.
It is even easier if you clean glazed porcelain stone tiles. The surface sealing ensures that water no longer has a chance to get inside the tile. In contrast to the non-glazed version, however, you usually have to use the wiper mop a little more often, as stains on the shiny floor are more noticeable.
2. The right cleaner – not all home remedies are suitable for porcelain stoneware tiles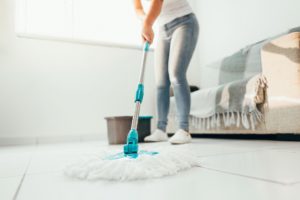 It is best to use special cleaners for porcelain stoneware.
Even if porcelain stoneware is very insensitive, there is still a very important aspect in the selection of the right cleaner. Rely on products that do not require surfactants.
Lubricating soap, detergent and various general-purpose cleaners rely on surfactants, as in this way the surface structure of water is destroyed or reduced.
However, this causes detergent residues to form on the floor, which cannot be easily wiped away. As a result, more frequent cleaning attempts usually occur, so that over time more and more residues accumulate on the porcelain stoneware tiles.
Therefore, only use cleaning agents without surfactants to clean porcelain stoneware tiles. In the case of heavily polluted areas or for descaling, there is nothing to prevent intensive cleaners from being used. However, always follow the dosage recommendation of the manufacturers. Unfortunately, the principle of "a lot helps a lot" does not apply at this point, but usually leads to problems.
Subsequent polishing is usually not necessary for porcelain stoneware, as the surface is very smooth and should shine again after cleaning.
3. Clean porcelain stoneware – this is how to proceed immediately after laying
If you have freshly laid tiles made of fine stone, you should take some time with the first cleaning. First of all, the tile adhesive must harden until you can groute the surface.
Once this has been done, a light cement veil often remains on the surface. However, please do not use the intensive cleaner now, but postpone the basic cleaning by a few days.
As a rule, it takes 7 to 10 days for the joint mass to be fully cured. Clean with plenty of water beforehand, so there is a risk that you will have to wash the joints out again and groute again.