Can you remove pigment spots, age spots and freckles? Not entirely. Skin discoloration is usually completely harmless. But if you are bothered by the pigment spots, you will find at home some remedies that at least lighten pigment spots and freckles.
Women want a flawless complexion. While laugh lines are usually accepted, blemishes and age spots are considered a nuisance. Pigment spots can appear at any age and mostly women are affected. This is a purely aesthetic problem. Pigment spots usually do not pose a health risk. Although simple home remedies can not completely remove the annoying skin changes, they can be significantly alleviated.
The cause of pigment disorders is to be found in an overproduction of the skin pigment melanin. Hyperpigmentation is usually triggered by increased solar radiation. The round brown spots often appear on the face, on the forearms or on the cleavage.
Find more health and skincare guides and advice
Hormonal changes such as taking or stopping the pill, pregnancy or menopause can also be responsible for disturbed melanin production. In some cases, autoimmune diseases, metabolic disorders or malnutrition are also the cause of the pigment disorder. Pigment spots also occasionally occur as side effects of antibiotics, chemotherapy or hormone intake.
Tip: Skin blemishes that appear after skin injuries or skin diseases such as psoriasis are referred to as post-inflammatory hyperpigmentation.
Lighten pigment spots and freckles
Pigment spots are always harmless skin changes. However before you attempt to lighten pigment spots and freckles, they must be differentiated from serious pigment disorders such as skin cancers. You can do this with the simple ABCDE rule:
A = asymmetry
B = limitation
C = color
D = diameter
E = development
➩Is the pigmentspot not symmetrical and does it have a frayed edge? Is it not of a uniform brown color, but has shades and measures more than two millimeters in diameter? Or has it changed in the past 3 months? Then the skin change should be clarified by a doctor.
Treat pigment spots
There are various methods to lighten pigment spots and freckles. In addition to various home remedies, you can also find commercial creams and laser treatments. We will not go into the latter in more detail, as they are often expensive, don't work and can even be harmful.
The best home remedies to lighten pigment spots and freckles
The following home remedies can help lighten pigment spots and freckles, but not overnight. It will take some patience for you to notice a change.
The following home remedies are found in almost every kitchen:
lemon
Apple Cider Vinegar
orange
potato
baking powder
almonds
papaya
avocado
tomatoes
turmeric
garlic
olive oil
vitamins
These are well-tolerated foods and there is nothing to be said against regular and repeated use.
Treat pigment spots with lemon juice
The acid contained in the lemon juice has a bleaching effect and can lighten pigment spots and freckles.
This is how it works:
1. Halve the lemon and squeeze it out
2. Apply the juice with a cotton pad
3. Leave the juice to work for about a quarter of an hour
4. Wash off the juice
The application can be repeated several times a day.
Tip: Buttermilk also has a lightening effect and is an alternative if you suffer from sensitive skin and cannot tolerate citric acid.
Treat pigment spots with apple cider vinegar
The effect of apple cider vinegar can be compared to the application just described. The brightening effect in this case is due to the acetic acid contained.
Here's how:
1. Apple cider vinegar undiluted to the dark spots, apply
the second apple cider vinegar about fifteen minutes let soak
third apple cider vinegar wash
It is recommended to repeat this application twice a day.
Treat pigment spots with oranges
For this effective but perhaps somewhat unusual method, you need an organic orange. Several strips of orange peel are removed with a zest cutter. These are then applied to the cleansed face like a peeling and left to act for a quarter of an hour. The remains of the orange peel can be removed with a damp cloth.
Treat pigment spots with potatoes
The potato contains enzymes that have a skin-lightening effect. Therefore, this home remedy has also proven itself for pigment spots. The application is uncomplicated and can be carried out several times a day without hesitation.
This is how it works:
1. Cut
the potato lengthways 2. Rub the affected skin areas with the potato half
3. Wash off the pigment spots with water
Tip: The application can be simplified if the potato half is wetted with a few drops of water.
Treat pigment spots with baking soda
Baking powder is a real all-rounder in the household. With the white powder you not only get drains free, you can also whiten your teeth. The lightening effect of the powder can also be used to treat pigment spots.
A baking powder mask is easily made. You need:
a tablespoon of baking soda
a tablespoon of yogurt
a tablespoon of honey
optional a little lemon juice
All ingredients are mixed together. The mass is applied to the pigment spots over a large area and should take about 15 minutes. The skin is then washed off with warm water.
💡 This home remedy is not suitable for daily use. With frequent use, the mask causes skin dryness.
Treat pigment spots with almonds
Almonds are rich in vitamin E, act as an antioxidant and can lighten pigment spots. Before use, the almonds are soaked in water for a few hours to release the skin. Then add a little milk and mix a creamy paste from the ingredients. The mixture can be applied to the skin spots before going to bed and is washed off the next morning.
Tip: The application can take place daily over a period of 14 days.
Treat pigment spots with papaya
Papayas are not only delicious, they are also healthy. The fruits contain the enzyme papain, which refines the complexion and allows pigment spots to subside.
The papaya must first be halved and peeled. After removing the numerous black seeds, you can puree the pulp. The affected skin areas are now rubbed in with the papayamus. After about 30 minutes, the mass is washed off with warm water.
Treat pigment spots with avocados
The avocado also has a lot of vitamin E and provides the skin with additional moisture. Skin and hair can be cared for with the flesh of the avocado. To lighten pigment spots, you can make a mask from the following ingredients:
avocado
honey
Milk (alternatively vegan almond or oat drink)
The flesh of a small avocado is mixed with a tablespoon of honey and a tablespoon of milk. The mass can act on the affected skin for half an hour and is then removed with warm water. It can be used several times a week.
Treat pigment spots with tomatoes
The healing properties of the tomato can be attributed to the antioxidants it contains. Lycopene acts as skin protection, prevents wrinkles and makes the skin soft and fine-pored. To counteract pigment spots, a mask can be made from tomato paste and yoghurt. This home remedy is particularly suitable for use on the face.
You mix two tablespoons of tomato paste with two tablespoons of yogurt. The mask is applied to the skin and should work for a quarter of an hour. Then the face and hands are washed and treated with care products as usual.
Treat the pigment spots with garlic
Garlic has many essential oils that have a bleaching effect and are suitable for lightening pigment spots. To do this, simply cut a clove of garlic in half and rub it with the cut on the affected skin. You can repeat this several times a day.
Treat pigment spots with turmeric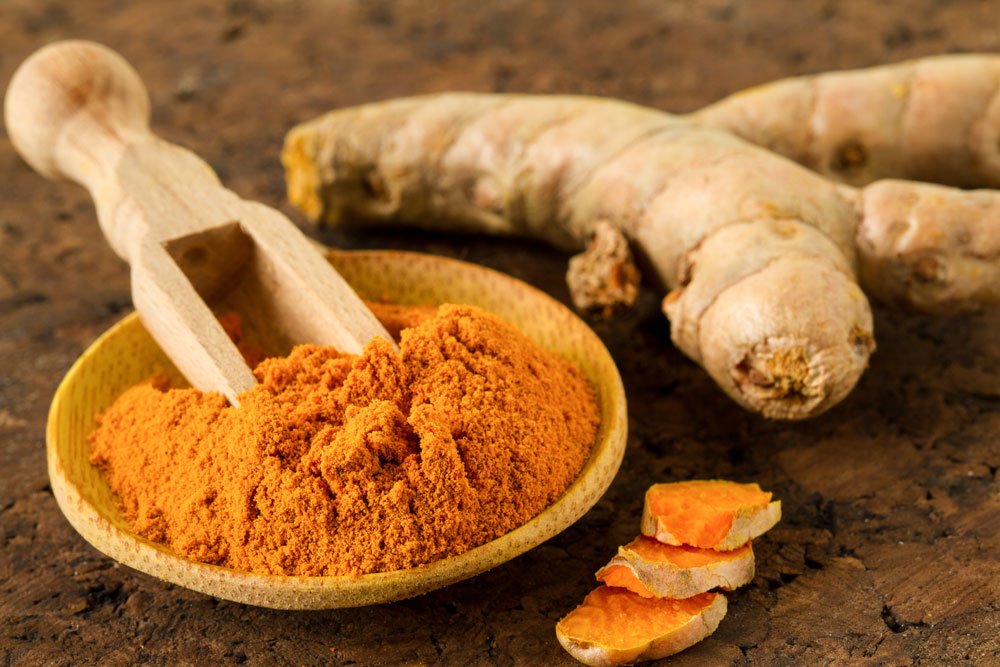 Turmeric has numerous health-promoting properties. Since the ginger-like tuber can help reduce melanin production in the skin cells, it can be used to treat pigment spots.
First, peel the small tuber and grate the turmeric. A teaspoon of grated turmeric is mixed with a little lemon juice and applied to the skin. The
mass can act for up to half an hour and is then washed off lukewarm.
Treat pigment spots with olive oil
Olive oil contains a lot of vitamin E, which has an impact on cell renewal and has a positive effect on the complexion and can even alleviate pigment spots. Apply the oil to the skin once a day and leave it on for about 15 minutes. You will notice first improvements after just a few applications.
Treat pigment spots with targeted vitamin intake
With an adequate supply of vitamins, the complexion can be improved sustainably. Those who take enough vitamin C ensure that collagen production is stimulated. The complexion then appears firmer and healthier. Pigment spots lose intensity. Several servings of fruits and vegetables daily provide a vitamin C boost and an extra serving of health.
As already mentioned, vitamin E has a positive effect on the complexion. A simple vitamin E pack can be made by opening two vitamin E capsules and mixing their contents with a tablespoon of coconut oil. This rich vitamin E treatment is applied to the skin and should take effect for about a quarter of an hour.
Tip: The effect can be intensified if the mass is warmed up slightly beforehand.
Bleaching creams against pigment spots
The trade offers special bleaching creams. These contain substances from nature that can reduce pigment spots. The active ingredient arbutin is often used. It is a substance that is obtained from cranberries, bearberry leaves and other plants.
Tip: Before using these creams, it is advisable to consult a dermatologist.
Get better yes, cure no
All of the methods described are one way of reducing pigment spots. The problem cannot be completely remedied with home remedies alone. It is advisable to find out the cause of the pigment disorder and consult a dermatologist.
Prevent pigment spots
To prevent the appearance of pigment spots, good sun protection is important. So that existing pigment spots do not intensify, sufficient sun protection must also be ensured. Face, arms and décolleté in particular should be cared for.
Tip: Use a high sun protection factor and do not miss the care of exposed skin areas even in winter.
A visit to the solarium can promote pigment spots and should therefore be avoided if possible. In order not to irritate the skin unnecessarily, peels should be used sparingly during the summer months. Certain medications can also favor pigment spots. Pay attention to the listed side effects and, if necessary, strengthen the sun protection.