Sometimes you just need dinner on the table in a hurry. That's when you need our 7 super fast cheese pasta recipes.
Super fast cheese pasta recipes: 7 ideas for 20-minute meals
Spaghetti with roasted cauliflower florets and buffalo mozzarella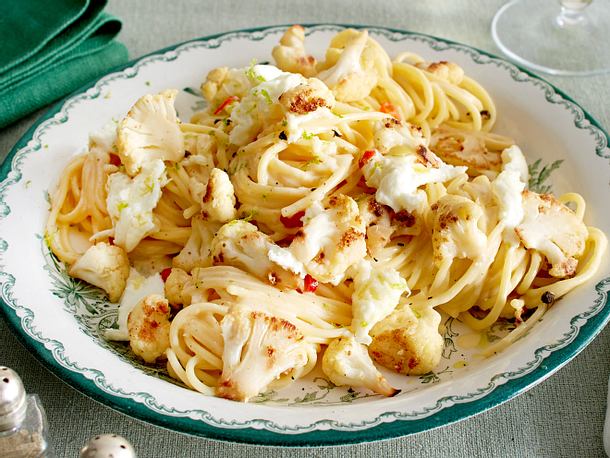 ingredients
For 4 people: one of the great super fast cheese pasta recipes for dinner parties
400 g spaghetti
salt
1/2 (about 375 g) cauliflower
2 (à 125 g) balls buffalo mozzarella
2 red chili peppers
1 lime
1 tbsp liquid honey
2 tbsp olive oil
1 clove of garlic
1 tbsp butter or margarine
60 g of Parmesan cheese
100 g of whipped cream
4 egg yolks (size M)
coarse pepper
preparation
Clean cauliflower, wash and divide into small 2-3 cm small florets. Pick the mozzarella. Wash chili, clean and cut into fine rings. Wash the lime, dab it dry and finely grate the skin.
Mix the honey, oil, chilli and lime peel with mozzarella.
Prepare noodles in boiling salted water according to the package instructions. Peel garlic and chop finely. Heat fat in a pan. Fry the cauliflower and garlic in a golden brown for about 3 minutes, season with salt and pepper, remove, keep warm.
Finely grate the cheese. Stir cream, egg yolk and Parmesan. Drain the pasta, add 3-4 tablespoons of noodle water and add to the cream mixture. Mix the pasta with the sauce, season with salt and pepper.
Arrange noodles on plates. Spread cauliflower and mozzarella on top. Sprinkle with coarse pepper.
880 kcal
3690 kJ
39g protein
48g fat
75g carbohydrates
One-Pot Parmesan Pasta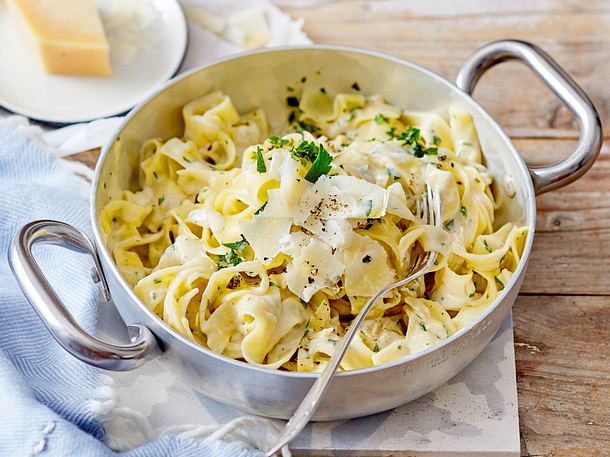 ingredients
For 4 people
2 cloves of garlic
2 tbsp olive oil
3/4 l of milk
2 teaspoons vegetable broth (instant)
500 g tagliatelle (eg fettuccine)
salt
pepper
nutmeg
1 bunch of parsley
80 g Parmesan (piece)
preparation
Peel garlic and chop finely. Heat oil in a large saucepan or roasting pan. Briefly fry the garlic in it. Water 1/2 1/2 l of water and milk. Stir in stock, add uncooked pasta. Season with salt and pepper.
Boil, simmer for 15-18 minutes. Stir from time to time so that the noodles do not touch the bottom of the pot.
Wash the parsley and shake it dry, peel off the leaves and chop. Slicing cheese into shavings. If the sauce becomes too thick at the end of the cooking time, add some more water. Stir in parsley and parmesan.
Season with salt, pepper and nutmeg again.
880 kcal
49g protein
24g fat
112g carbohydrates
One-pot macaroni with tomato mozzarella cream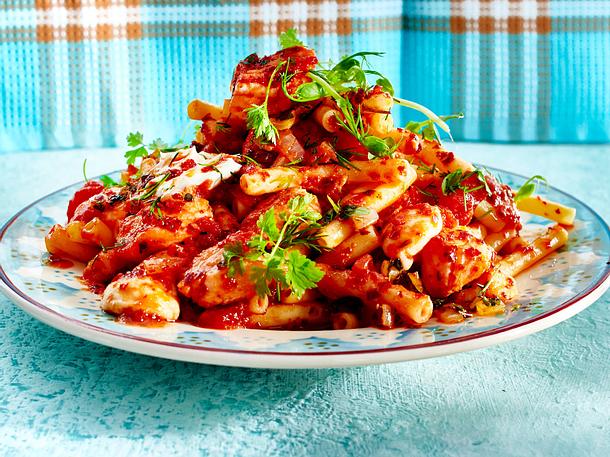 ingredients
For 4 people
1 onion
2 cloves of garlic
2 tbsp olive oil
1 tbsp of dried Italian herbs
2 tin (s) (à 425 ml) chopped tomatoes
2 teaspoons vegetable broth (instant)
400 g short noodles (eg macaroni)
Salt, pepper, sugar
500 g salmon fillet
1-2 tsp chilli flakes
1/2 pack (50 g) pea sprouts
4 stalk (s) dill
1/2 bunch / pots of chervil
100 g of sour cream
1 package (125 g) mini mozzarella balls
preparation
Peel onion and garlic and chop finely. Heat oil in a large saucepan. Braise both in it. Italian herbs for a short time. Add tomatoes and 1/2 l of water. Stir in broth and macaroni.
Season with salt, pepper and 1/2-1 teaspoon of sugar. Bring to a boil and simmer over medium heat for 8-10 minutes. In between, stir several times so that the pasta does not stick to the bottom of the pot.
Rinse the fish, cut into cubes of approx. 2 cm. Season with salt and pepper. Carefully mix with chili peppers under the noodles. Continue to simmer for 2-3 minutes, trying in between so that the pasta does not become too soft.
Rinse rungs, drain well. Wash herbs, shake dry, pluck small. Loaf the mozzarella and mozzarella under the noodles, season to taste again. Sprinkle with herbs and sprouts.
Serve immediately, as the pasta in the sauce tighten and quickly too soft !
850 kcal
47g protein
35g fat
81g carbohydrates
Winter noodles with romaine lettuce in spicy cheese sauce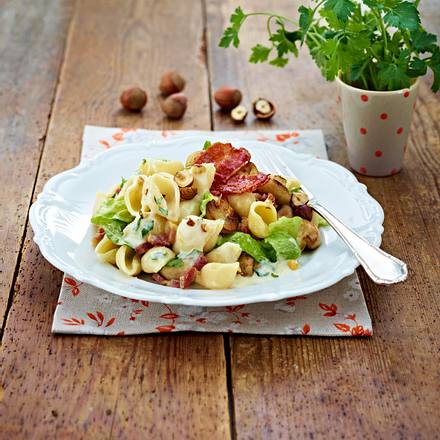 ingredients
For 4 people
250 g mushrooms
1 mini-sea lettuce
4 stalk (s) of smooth parsley
Salt pepper
80 g spicy blue cheese
3 tablespoons of hazelnut kernels
150 g bacon
400 g of small pasta shells
150 g of creme fraiche
preparation
Clean mushrooms, wash and halve if necessary. Clean the lettuce, wash, spin dry and cut into pieces. Wash the parsley, shake it dry, finely chop the leaves.
Bring 3-4 liters of salted water (about 1 tsp salt per liter) to the boil. Meanwhile, dice the cheese. Chop nuts roughly and roast in a pan without fat, remove. Fry bacon in a frying pan over low heat until crispy.
Drain on kitchen paper. Then break into pieces.
Add the pasta to the boiling water and cook according to the instructions on the package. Fry mushrooms in hot bacon fat over high heat. Season with salt and pepper. Add 200 ml of pasta water and bring to a boil.
Stir in crème fraîche and parsley. Melting cheese in sauce. Season with salt and pepper.
Drain the pasta and return to the pot. Add the sauce and mix with the noodles. Fold salad, arrange. Sprinkle with nuts and bacon.
690 kcal
25g protein
30g fat
72g carbohydrates
Quick noodles with broccoli in cream cheese sauce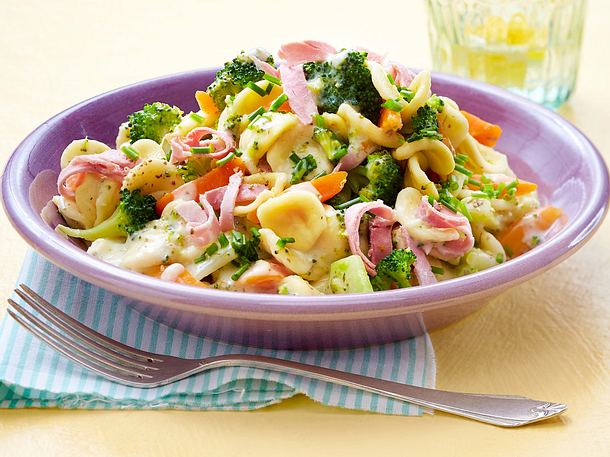 Fast, faster, broccoli noodles! With cooked ham and a delicious cream cheese sauce, this pasta is just the thing on a Monday evening when you do not want to spend much time in the kitchen.
ingredients
For 4 People.
300 g of carrots
750 g of broccoli
1 onion
1 tbsp oil
200 g orecchiette pasta
1 l vegetable broth
pepper
salt
sugar
75 g cooked ham in slices
1/2 bunch chives
150 g of reduced-fat herbal cream cheese (8% fat)
1 tsp cornstarch
preparation
Clean carrots, peel, halve lengthwise and slice. Clean broccoli, wash, divide into small florets. Peel and slice the stalk. Peel onion and chop finely. Heat the oil in a pot and sauté the carrots and onions.
Add the pasta and add the stock. Season with pepper, salt and sugar, simmer for about 12 minutes. After about 5 minutes of cooking add the broccoli.
Cut ham into strips. Wash chives, shake dry and cut into small rolls. Stir cream cheese under the noodles, bring to a boil. Taste everything again. Stir the starch smooth with a little water, bind the sauce with it.
Serve pasta with ham and chives sprinkled.
340 kcal
1420 kJ
19g protein
7g fat
47g carbohydrates
One-pot pasta with chicken and gorgonzola sauce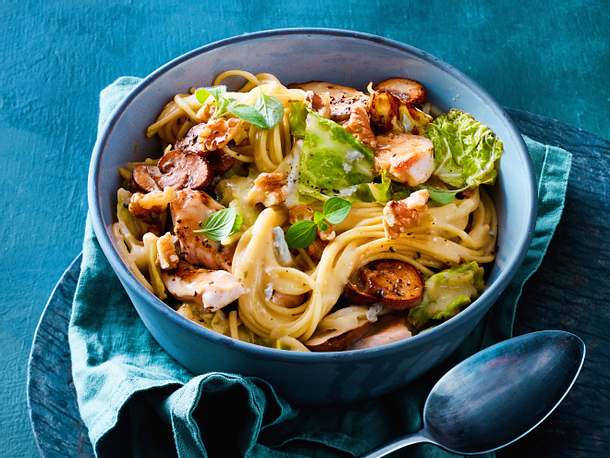 ingredients
For 4 people
600 g chicken fillets
250 g of brown mushrooms
1 savoy cabbage (about 600 g)
1 clove of garlic
2 tbsp oil
salt
pepper
800 ml chicken stock
250 g spaghetti
200 g of Gorgonzola cheese
50 g walnut kernels
oregano
preparation
Wash fillets, pat dry and cut into strips. Clean the mushrooms and cut them in slices. Clean savoy cabbage, wash, quarter and remove the stalk. Cut cabbage into pieces. Peel and chop garlic.
Heat oil in a pot. Fry chicken strips in it. Season with salt and pepper. Steam the garlic, mushrooms and cabbage in it. Deglaze with the broth. Add the pasta, bring to the boil and simmer for about 6 minutes.
Crumble the cheese and put it under the noodle chicken pot. Season with salt and pepper.
Roughly chop walnuts and toast in a frying pan until golden brown. Arrange noodle chicken pot in bowls. Sprinkle with the roasted nuts. Garnish with oregano.
860 kcal
3610 kJ
71g protein
41g fat
49g carbohydrates
Pasta Gratin à la Carbonara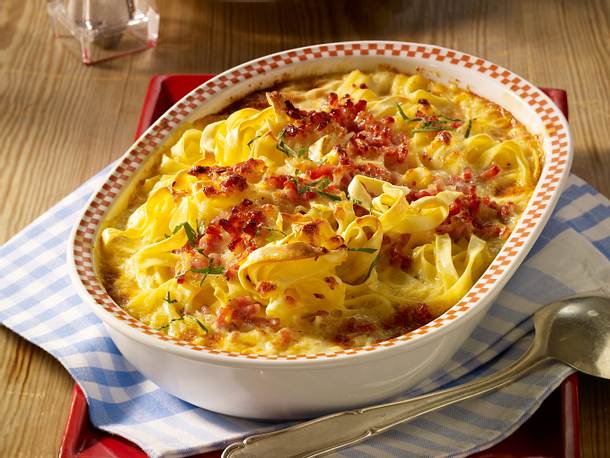 Our recipe for noodle gratin à la Carbonara combines everything that a delicious pasta dish from the oven needs: savory taste, creamy sauce and a golden cheese crust for one of the classic super fast cheese pasta recipes.
30-minute noodle gratin for those in a hurry
Spaghetti carbonara with a difference: We conjure a quick-bake pasta gratin out of the oven from the popular pasta dish. Thanks to fresh pasta, the casserole is on the table in just 30 minutes – and tastes great for the whole family! Traditionally, the carbonara is prepared only with ham, cheese and egg, but without cream. So that the fresh ribbon noodles cook evenly in our noodle gratin, we add some cream.
Pasta gratin vegetarian
You can customize the casserole as you like, and also make vegetarian by simply omitting the bacon or replacing it with vegetables: broccoli , peppers or mushrooms go well with the creamy egg cream sauce and taste delicious baked with Parmesan or other cheese , too small vegetable skeptics!
ingredients
For 4 people
1 medium onion
1 tbsp olive oil
200 g of diced bacon
400 g of whipped cream
black pepper
salt
1 pack (400 g) fresh ribbon noodles (refrigerated shelf)
1 egg (size M)
60 g of grated Parmesan cheese
some stalk (s) of parsley
preparation
Peel onion and dice. Heat oil in a large pan. Fry bacon for 2-3 minutes. Add onions and fry briefly. Add 300 g of cream, season everything with pepper and a little salt.
Add pasta and leave to soak in the hot cream for 1-2 minutes. Remove from heat. Whisk egg with 100 g of cream. Stir with Parmesan under the sauce, mix well. Taste again.
Put the pasta with the sauce in a casserole dish. Bake in preheated oven (electric cooker: 200 ° C / circulating air: 175 ° C / gas: stage 3) for 15-20 minutes.
Wash parsley, pat dry. Cut into fine strips. Sprinkle over the gratin and serve.
820 kcal
3440 kJ
26g protein
61g fat
40g carbohydrates
Find more super fast recipes in our Food section
Author: Genevieve Dumas is a food, fashion and beauty stylist from New York, who has worked for a range of major magazines.